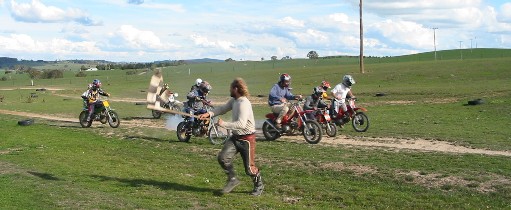 The April 2003 Postie Race @ Hallwood
We had a top day at the Postie bike race held on Saturday 12th April at Hallwood. What a beautiful autumn day it was. About 20 degrees, a few clouds and a mild north easterly breeze.

The turnout was pretty good with about 10 Postie bikes at the race. There was also three Honda XR50s, one XR100 and an XL250. Danny, the guy who broke his leg at the last race turned up with a Postie bike with a home made sidecar on it! Click here to see Danny's Bike.

A few 5 lap races were held before the big one, the "Postie 2 hour race". Eleven bikes started the 2 hour at 3:05 PM and right away it was Jeremy blowing them away with Dave 2nd and Neale in 3rd. I was back in about 5th for a long time then it all changed. Jeremy was out, Dave was having chain problems and suddenly I find myself in 4th. Then the bike in 3rd goes out, moving me to 3rd. Neale ended up winning for a well earned victory with Dave finishing in 2nd.

After the race an all night party was held and we all had a great time.



| | |
| --- | --- |
| | |
| Danny on his CT110 sidecar watching the race. | Denzel on the Green Hornet |
| | |
| A view up the straight during the 2 hour. | One of the originals returns. Julian with his now grown boys, Caine and Chris. |
| | |
| Warren in the foreground, Dave in the background. | The 50's. Go buy a couple of Posties boys. |
| | |
| Jeremy, Dave then Neale Parko. | Newcomer Neil from Sydney on Warren's bike. |
| | |
| Dave Green Hornet passing Peter... | 3rd! (or 1st in Petrol Class!) |
Too bad nobody got a picture of Parko winning... <grin>
---
Copyright ©2003 - Warren Leadbeatter - Postiebikes dot com
Last Updated - 14-Apr-2003