| | |
| --- | --- |
| Future Events... | |
---
**** The bottom line is, there are no races planned for the Bathurst Area in the foreseeable future, so if anyone would like to host one, please let us know ****

GARTHOWEN INTERNATIONAL SHORT TRACK RACEWAY
POSTIE BIKE RIDING! ALL DAY SATURDAY - AND A LITTLE ON SUNDAY MORNING...
There will be all the usual events, Free-styling, Postie bike warm up races (5 and 10 Lap), Postie bike relay races where you have a partner and rider changes (10 and 20 Lap), Kids race and Ladies race, and the main event, The Postie 2 Hour Enduro!
What is the 2 Hour Enduro? The 2 Hour Enduro is a 2 hour Postie bike race! You can have a partner if you wish and change over as often as you like or you can go it alone, if you're tough enough! The winner is the team who has done the most laps at the end of 2 hours.
Where? GARTHOWEN is a property situated on Garthowen LANE near 'The Lagoon' which is near Bathurst NSW. It's a leisurely 2.5 hour drive from Sydney through the beautiful Blue Mountains...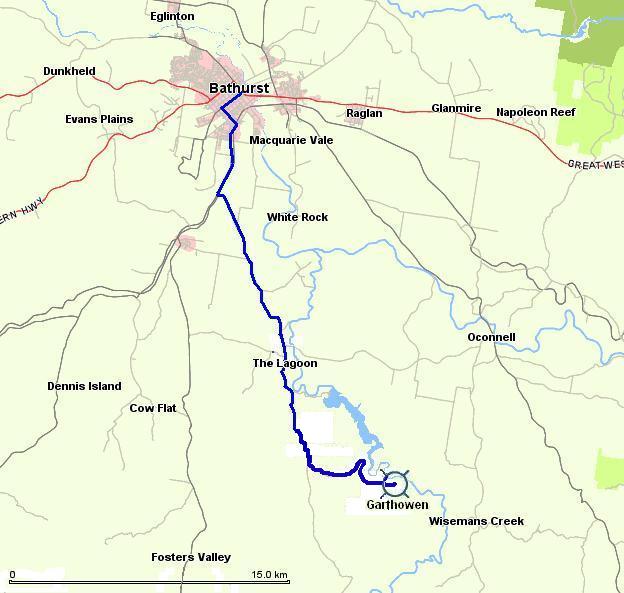 Directions to Garthowen:

From the corner of William Street & Great Western Highway Bathurst
First Park outside the Ambulance Station in William St and go into the Shopping Complex to pickup any last minute needs
(I usually stop here to get Morning Tea, Fresh Bread, Beer & ICE!)
1. Heading WEST on the Great Western Highway turn LEFT into WILLIAM ST
2. Head up WILLIAM ST and turn LEFT at the Third Roundabout into ROCKET ST
2. Go all the way to the end of ROCKET ST (thru 2 roundabouts) and Turn RIGHT into VALE RD
3. Follow VALE RD for approx 4kms then turn LEFT into LAGOON RD
4. Follow LAGOON RD for about 10kms and you will come to "THE LAGOON"
5. Continue straight on for another 3kms and you will go past BEN CHIFLEY DAM TURNOFF on your left (Do not turn here)
6. Continue on for another 3kms until you come to a big sign that says "Ben Chifley Backwaters" Turn LEFT here!
7. This is GARTHOWEN LANE. Follow this down for a short distance and follow the POSTIE BIKE SIGNS into the property.

Rules:
No Helmet = No Ride
Bike must be a CT90, 110 or similar 4 stroke (eg XR80, XL/SL100/125 etc) ie NO BIG BIKES
Absolutely No dogs, cats, or any other kind of pets allowed.
No big egos and no agro.
NO FIRES
Failure to comply with the rules will result in you being asked to leave. (we have never had to ask anyone to leave in our 20 year history)
Prizes: Absolute recognition on the day rewarded by a round of applause and the odd hand shake or three.
Entry Fees: None. Just bring your bike, yourself, your helmet and some fuel.
Where to stay: You can camp onsite if you wish, or you can sleep under the stars as many folks do... weather permitting. There's a limited amount of fresh water available and a toilet. We usually have a BBQ so bring your meat. If you don't like camping, then Bathurst is approx 30 mins away so you can always stay in a Motel or at a friend's place.
All enquires to Warren (

)
---
Copyright (c) 2006 - Warren Leadbeatter - WWW. POSTIEBIKES.COM
Last Updated - 01 July, 2007