Supercharged Postie Bike Unveiled
at Brightside Winter Race
As expected it was bloody cold, but clear and dry. There was a steady breeze blowing that was cold enough to freeze the you know what's off a brass monkey. Right from the outset, Parkos bike was going good - better than previous meets anyway - what has he done this time? The track was moist and had recently been graded and was in primo condition for the beating it was about to get from a thousand die hard postie riders. (well a few anyway).
The rule of the day to keep warm was where ever you were you needed a fire nearby to keep warm. Nothing else would do. So that's what we did! The racing was pretty consistent, no-one had any bad stacks (i got a small bruise on my shin), and the winners were Parko and Jeremy 1st, Noel and Chris 2nd and that's about all that I know.
Anyway heres some of the best pics I took... (look for the supercharger pics at the end)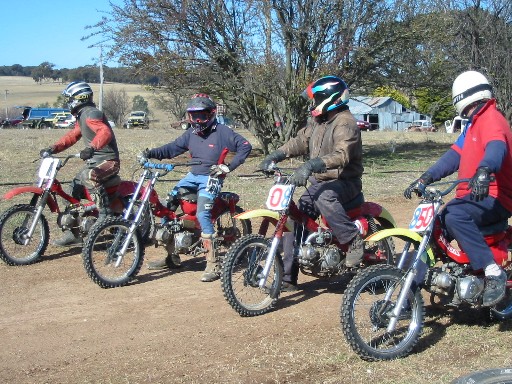 The line up for the first race (R to L - Parko, Jeremy, Noel, Chris)

And it was all Jeremy 'Go Jeza!'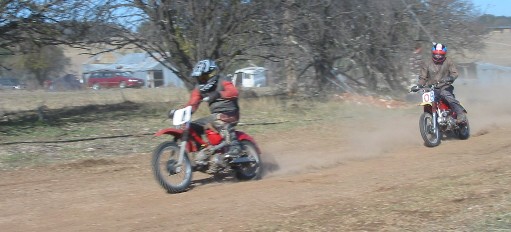 With Parko and Noel battling for 2nd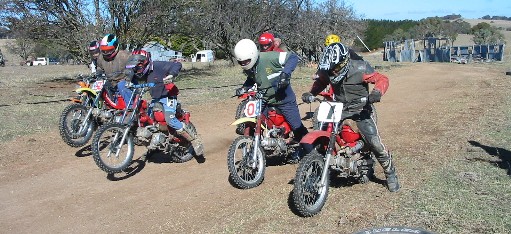 The Start of the 2nd Race - same deal all over again

Jeza blowing them away...

The Start of the 2 Hour!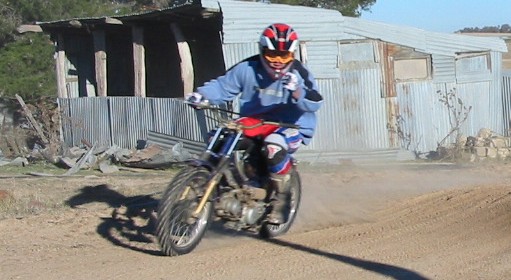 Great to see Tony G back getting into the action on the Team "Dataless" JPS special purple monster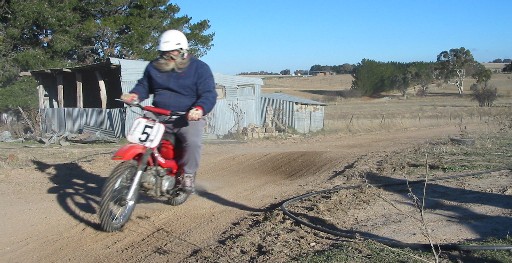 Team Rosato (minus the Rosato) Santa and his helpers had a great time <grin>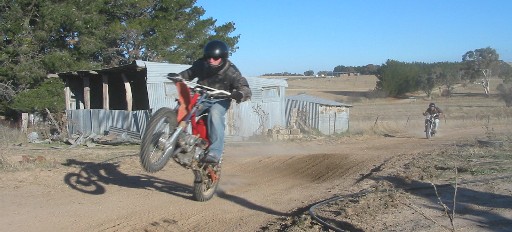 One of the young guns giving it his all.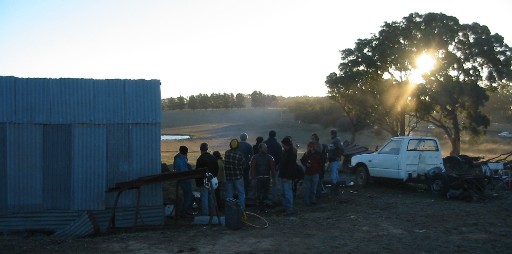 The awesome crowd who braved the cold to come out and play.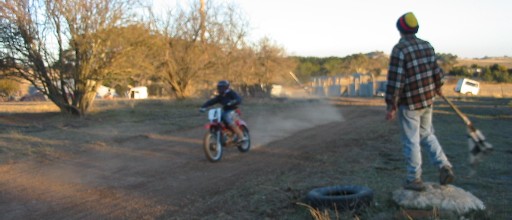 Team Neale & Jeremy won as expected
Note: Some stats from Noels bike computer: Noel came 2nd - 160 Laps, Average Speed 42km/h, Top Speed 61 Km/h, Lap Distance = 530 metres, Race Distance 84.74 kms. It was estimated that Parkos bike (1st) did 170 laps - you can do the maths to workout that their average speed was around 45km/h.
And then when we thought it was all over this happened... A guy arrives in a ute and we all thought, "gee you're a bit late mate". Then someone said "did you see the bike in the back of his ute" I said "yeah - what did he just buy it or something?" "No" he said "it's got a supercharger on it!" Here are some pics...
A whole new can of worms has been opened now... to be continued...
---
Copyright ©2004 - Warren Leadbeatter - Postiebikes.com
Last Updated - 01-Jun-2004