sTeppiE mEntaliTy presents
2000ANZAC Day Race
"Lest we forget 85 years since Gallipoli"

Easter Monday 24th April 2000

Riverview Trackside, Ophir Rd.
Bathurst. NSW.

HIGHLIGHTS

Well! What a great day that was! As it was in 1999 the Year 2000 Riverview Race Day was a great time with a record roll up of spectators and contestants with 19 odd bikes in the first race!

ANZAC DAY EVENT SCHEDULE
1.
5 Lap Race
2.
10 Lap Relay Race
3.
10 Lap Race
4.
5 Lap Ladies Race
5.
2-Hour Enduro (120 Laps) 3:00pm start

Points: 1st = 6, 2nd = 4, 3rd = 3
Finish Race = 1, DNF = 0

In an event that was far from organised properly there was controversy in the first race. Some JOKER on a CR500 decided to join in and nearly took out both front runners. (what are you trying to tell us JR?) This sort of behaviour is frowned upon surverely by the Postie Racing Supreme Body, "Neale". Neale asks "Why do motocrosser's insist on trying to race against postie bikes? Why can't they race against other motocross bikes? In a later bout of controversy, several young dudes invaded the ladies race on the 4th lap. They buzzed the girls and scared them during a 2 lap ordeal. The track was a gut and bum busting roller coaster ride, you could just see the work that had gone into preparing the track and the venue.
An early shot of the line up for the 3rd Race.
One of the new additions to the event. The JPS Purple Monster! Check the Power Pipe!
The Start! of the 2 Hour! The first straight leads downhill to a slippery loose surfaced left hander.
The "Chute!" The place where the most accidents occur. One guy went over the top into the quarry!
That's Dave on my bike! Go Dave!
There goes Tony. Go Petrol!
The Winner! Go Methanol!
A great day was had by all and it was fun.

Who won? Everyone who attended!
As the end of the day drew near we watched the video made last year
then settled down to a beautiful evening. Some folks had a BBQ while others went out for dinner...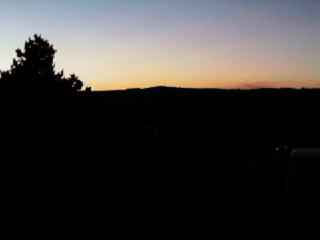 And at the going down of the sun,
and in the morning,
We Will Remember Them.
LEST WE FORGET
Riverview, 25th April, 2000
---
Copyright ©2000 - Warren Leadbeatter
Last Updated - 25 April, 2000