Bruce Speight
Memorial Race
13 January 2001

Held at: Hallwood, Dungeon Rd Vittoria NSW Australia
Lat: S 33.45 S Long: E 149.33 Elev: 980 Mtrs GMT -11
13th January 2001 11:00AM - 8:30PM
The Weather Bureau had promised a hot dry day with a fresh to strong southerly breeze, and that is exactly what we got. The steady southerly wind kept the skin temperature down and it was a good thing, because if we didn't have that we would have all been toast! The track was dry and fast and every piece of shade was utilised by the spectators to avoid the sun.
The turn out was excellent, with about 14 Postie bikes in attendance and a generous amount of spectators, many from the Speight family, who had come to organise and witness the inaugural Bruce Speight Memorial Race. Bruce Speight was fellow Postie Biker who was responsible for producing the 'Green Hornet' which burst onto the scene back in Nov 99. Unfortunately, Bruce passed away last year and his family and friends thought it would be a fitting tribute to hold a memorial race in his honor. A trophy was produced by the family and a 20 lap relay race was chosen so that many more folks could be involved in the race. From now on the first event held each year will have a 20 lap Bruce Speight Memorial Relay Race and the Bruce Speight Memorial Trophy will be up for grabs.
---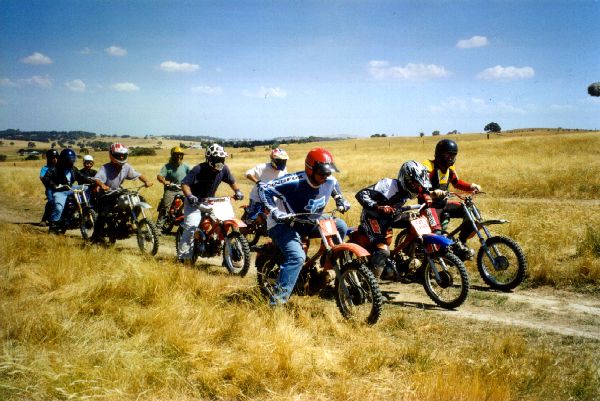 The start of the 20 lap Bruce Speight Memorial Race.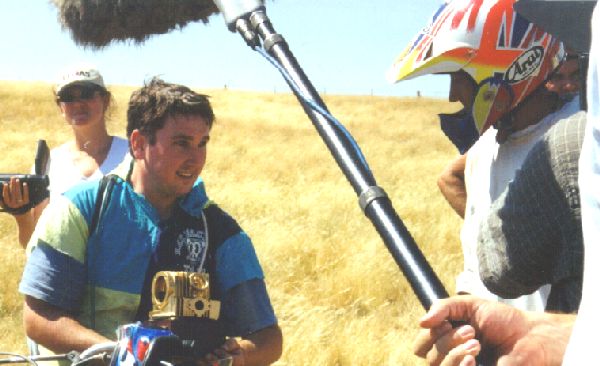 The race was won by the 'Blayney Boys' Tim (left, holding the Bruce Speight memorial Trophy) and Tony (wearing helmet). Congratulations boys, see you next race!
---
Copyright ©2001 - Warren Leadbeatter
Last Updated - 15 Jan 2001