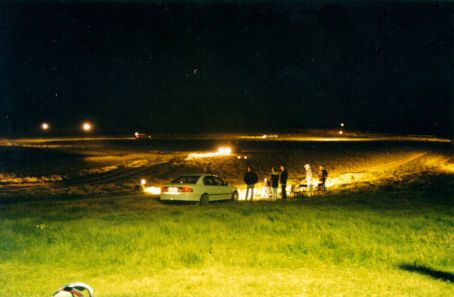 The November 1999
Vittorian (Night) Grand Prix!
Welcome to the highlights of the November 1999 Vittorian Grand Prix featuring for the first time in the event's 9 year history NIGHT RACING!.

Well, as I have said many times before, "What a day it was! Probably the best on record." The official weather report from central race control read: "Weather Fine, Track Fast and Slippery!" Dry and extra grassy conditions were welcome after the wet, cold & windy winter season. This was to be that last race of the century, and what a way to remember it with night racing for the first time.

It seems that the highly modified methanol burning SUPER POSTIE'S are now becoming the norm, with only a few stock standard engined machines in attendance it really was a day for the fast guys. There were about 12 postie bikes in attendance plus a few of the usual ring-in's. Several 5 and 10 lap sprint races were held as well as a couple of relay races all leading up to the Big One, "The NIGHT Postie 1 Hour."
A new addition to the competition
= Bruce's Green Machine =

Features lowered motor, jacked up suspension, custom power pipe and runs on Av-Gas Well done!

After Craig broke his frame at the ANZAC day
meet he went away and came back with this!

Bruce doing a few tune up laps to get the gear
ratios right. Lacking a bit in the top end?

The START! This is the start of Gail's first race ever. What a top photo showing everyone who was there.

Racing Gail on the best looking bike there.

A few of the large crowd swapping stories.

You can just see Luke on my bike during the night race in this shot.

I can't tell who this is! I needed a bigger flash.
Sure do wish I had a bigger flash for some of the night racing action. It would have been good to get a few action shots of that posted here. Next time, if there ever is one, I'll remember to pack my Big Flash!
---
If you are interested in finding out more about Postie Bike Racing drop me an email.
---
Copyright ©1999 - Warren Leadbeatter
Last Updated - 25 November, 1999